A Book With More Than 300 Activity Ideas For Children!
posted by Surbhi Prapanna, February 18, 2016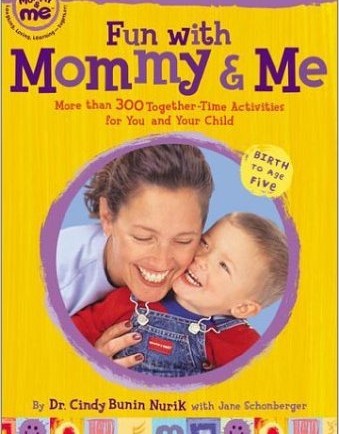 Motherhood is a precious gift of God and it is a wonderful journey filled with different emotions. We laugh with them, play with them and learn a lot from them.
Spending quality time with kids is a great way to form a strong emotional bond with them. As a mom to two lovely daughters, I always love to do creative activities with them. Reading, crafting, playing...the list is endless. Creative activities are a good way to increase imagination in kids and on a side note, these are great boredom busters that help to keep them away from TV and other electronic gadgets.
Reading and library visit should be a must routine for kids and on one such visit, I have found a very interesting book named "Fun With Mommy And Me" written by Dr. Cindy Nurik, a child development specialist and educator. The book has more than 300 together-time activities for kids and mom.
The book has three sections and is focused on 0-5 years kids. At the beginning of each section, the author has explained the objective of each activity and the material needed, which makes it easy for the readers.
In the first section, after giving a brief introduction to child development during the initial year of life, she has focused on different activities.
The second section deals with activities from 0 to 24 months. The author has illustrated all activities in a very interesting and step by step manner and also add a fun section, in which she has included all possible variations to that particular simple activity. These variations make it more interesting. For example, in the section for 4-6 months, she illustrated "shake, rattle and roll"; in this, there is step by step demonstration of the uses of rattle and its advantage. As a variation, she has added the method to make a homemade rattle and an interesting rattle rhyme. This variation is simply great and interesting.
She has also included a mommy memo and mommy did you know section in which she has shared the most interesting fact about that activity. For example "Finger plays are often regarded as the perfect activity for a young baby. They combine two of the most fundamental skills babyhood movement and speech into an entertaining game." This was added as an interesting fact with the funny finger activity.
The third section has a collection of activities according to the month of the year. It happens very often while we are aware of many activities we often forget what to do with kids on sunny, rainy or snowy days. This section is really is very helpful in this case. The activities are simple, step by step with all possible variations. For example in January, she has selected a white color theme with a collection of snowflakes and snowman activities. For snow ice cream, she has added variations of snow cones, popcorn and marshmallow snowman which make it more easy and interesting.
Good rhymes and song collections are another integral part of a book. She has included great songs and rhymes in each section according to the season and age of kids. In the end, there is a brief guideline about mommy and me playgroup which helps moms to be creative in this journey of motherhood.
So if I summarised this, I would say-
A must-read book for moms and kids to enhance their creativity
Great for all new moms who are confused that how to spend time with kids
Activities are simple and materials can be easily found at home
Along with indoor activities, outdoor activities also included, which make it more interesting
Can be a great helping hand in difficult weather when the kids are stuck indoors saying 'We are bored'!
It is not only a book to read but helps create a journey of togetherness.

Image credits: Amazon.com

*Links are affiliate links