A loveable, spirited Indian-American Girl has our heart!
posted by Preethi Chandrasekhar, July 23, 2019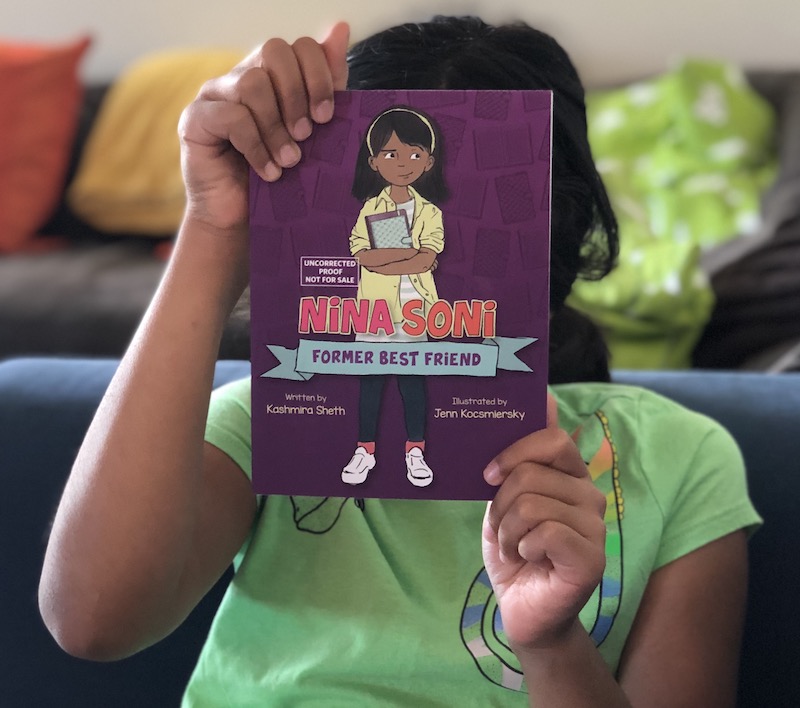 Preethi Chandrasekhar tells us why Kashmira Seth's new early reader chapter book, Nina Soni, Former Best Friend, is a must-read for chapter book readers, and how the book even inspired her to explore a food experiment!

My daughter who is now in 2nd grade, never really took to Junie B. Junes, Amelia Bedelia, Ivy and Bean, and the like. She gravitated more towards graphic novels like the Amulet and Babysitters Club and of course, Geronimo Stilton, only the fantasy series mind you.
When we received an author review copy of our beloved author Kashmira Sheth's new early reader chapter book titled Nina Soni, Former Best Friend, I was thrilled and decided to read it aloud to my 8 yr old. We have a nighttime routine of self-reading whatever she likes and later I read to her, what maybe still a little out of reach for her or in this case, not a book she had heard of from her friends. Needless, to say, we were hooked. When the book ended, my daughter asked me - are there going to be more Nina Soni books? Yes! We received the first title of a series.
Nina Soni is a distractable girl who loves lists to keep her on track. When she ruins her best friend Jay's art project, she is worried that he won't be friends with her anymore. At the same time, she has to turn in a Personal Narrative Project, and it is her sister's birthday party that weekend! With her Dad not able to make it back to town in time, Nina has to help her mom.
Nina wants to discover something cool on her own and write about it for her project, just like Alexander Fleming who discovered penicillin. When her mom makes purple cabbage kachumber, Nina discovers, accidentally, that the cabbage water changes color to pink when lemon juice is added. Thrilled by what she considers to be her unique discovery, she sets out to try adding different liquids to the cabbage water and see what they do and write about it for her project. But as fate would have it, her best friend Jay has already done the same thing for a science project the previous year in 3rd grade! And the magician who was supposed to entertain her younger sister Kavita's friends at her birthday party cancels! What does Nina do now?
The early chapter book was perfect for my 2nd grader, the lucid language, font size, and interspersed illustrations were age-appropriate for young readers and a pleasure to read. We especially loved all the cultural elements and the Indian American experience in the book - from video calling grandparents in India by calculating a 12.5 hour time difference only to have the screen freeze up to watching baby Krishna stealing butter on a TV show, we connected with it all!
We also loved the experiment in the book so much, my daughter wanted to try it out and we ended up including it as a bonus project in our Food-themed Toka Explorer box for July!
Things my daughter loved in her words -
1. I loved that Nina discovers something really cool by herself.
2. I like that she is an Indian-American girl like me.
3. I really liked that she explains big words when she uses them. I liked the word "ponder" and I am using it these days.
3. I hope there will be more Nina books for me to read.
What I liked -
Nina makes mistakes and recovers from them and carries on. She does not need to be perfect and tries things! That makes her an awesome role model for little girls.
We highly recommend Nina Soni, Former Best Friend and can't wait to find out what she does next!

Buy this book now!