5 Easy Homegrown Activities to Keep Active Toddlers Busy
posted by Toka Box Editorial Team , February 09, 2016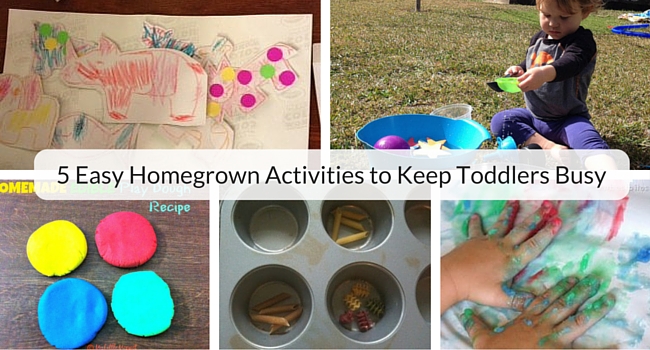 1. Edible Finger Paints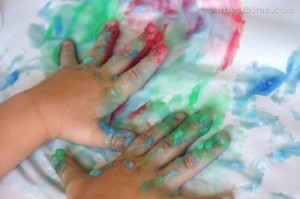 Let the little ones get messy and they even get to eat the paint!
Recipes for paint here and here
2. Fun with Pasta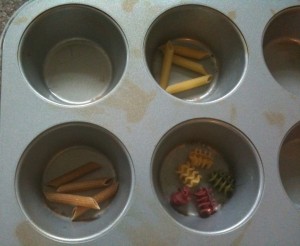 Fill and Dump a Muffin Pan with Pasta. Try Different Shapes and Colors while you make Dinner.
Keeping an active toddler busy and out of trouble is a task in itself. Especially if you are stuck at home because of the weather.
This activity provides loads of fun for a long time and you can make it educational if you want.
What you need:
1. Muffin Pan (You could even use those plates with multiple depressions)
2. Pasta of various shapes colors or you could use cheerios or bits of colored paper.
Put pasta /cheerios/paper in various holes in the muffin pan.
Based on the stage your child is in, you could let me them fill and dump. If they are older, you could even use beans (black gram dal, rajma etc. , but only if you think it is safe, of course!)
Hand them a spoon to mix. Talk about colors and sort them.
Or even count the pasta in each hole.
The only problem is to remember to get the pasta from the floor. It is not fun to step on a pasta spiral!
3. Edible Play Dough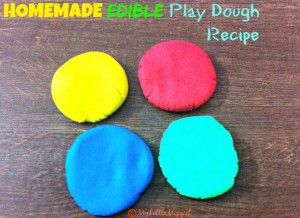 Play dough is a must for every toddler, Here is a low-cost recipe to make it at home.
How to make Edible Play Dough
Ingredients
Plain all purpose flour -1 Cup
Cooking oil ( I used sunflower oil) – 2tsps
Food colors – The food colors can either be liquid or powder. I used a powder, to which I added water to make a solution.
Salt – 1/2 Cup
Water – 3/4 Cup
Method
1. Take the flour in a large bowl.
2. To the flour add the required amount of salt.
3. Pour water into the flour and 3 tablespoons of vegetable oil in it.
4. Knead the dough evenly, if required more oil can be added.
5. If it is sticky, add more flour.
6. When a soft consistency is attained, make the dough into small sections with craters.
7. In the craters pour the food colors.
8. Use a glove ( I have used a surgical glove, as we have a bunch always at home, kitchen gloves also work fine) to mix the individual dough. Please lubricate the gloves with oil, as the dough may stick with the glove. Please use a separate glove for each color or wash after mixing each color.
9. An alternative method, the dough can be placed in a zip lock polythene bag, close the zip and knead the dough into the color required.
10. Viola!!! Your Edible Play Dough is ready!!!
4. Water Play on Hot Days


Which toddler does not love to splash around in the water? "Clean" the windows, Mix up food coloring with water and water the plants!
Here are some fun ideas for a warm spring day, if you don't mind some mess and a wet child:
Spring Cleaning the Windows
What You Need:
1. A spray bottle (You can get one at the travel size bottles section in a supermarket)
2. Water
3. A clean rag
Pick a french window or a patio door or some other flat surface that won't mind a lot of water sprayed at it and on the floor next to it.Or better still have child step outside into the patio/balcony. Fill the spray bottle with water and hand the kid the rag and have her "clean" the windows.Have child spray water and wipe and repeat endlessly.Water + kid = 30 mins of mommy bliss. or something like that. water will get over, spray bottle won't work etc etc. Let's say 5 mins of mommy bliss then?
Put down a mat/ cloth rags under them to reduce water clean up later and hang everything to dry.
What They Learn:
Besides being a practical life task, toddlers love water play.It has many advantages from fine motor skill development to language development.
Food Coloring Fun
What You Need:
1. Tiny bottles of food coloring
2. Muffin Tin
3. Water
4. Spoon
Lay down a old bath mat. In some of the holes in the muffin tin, add a drop of food coloring of each color. Add water. Give child a spoon and walk away. Come back after 30 mins to find child with purple hands. Don't worry, it washes away.
What They Learn:
Fine motor skills are developed as they learn to wield the spoon and pour.
Water the plants
What You Need:
1. Flower Pot
2. Potting Soil
3. Flowers
4. Empty Milk Jug
Visit a garden center with your child to pick their own pretty flowers. Plant those flowers into your flower pot with your child's help.
Make Milk Jug watering can (Steps here). Fill with water and have kid water plants and whatever else they can find outside.
What They Learn:
Playing in the dirt in the outdoors is an integral part of childhood. See the scientific advantages of letting kids dirty and germy here.
5. Zoo Animals Collage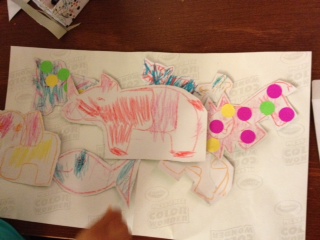 Draw some Zoo animals, have your child cut them out with preschool scissors, color them and stick stickers on them. A fun activity with loads of skills.