A 2-Week List of Back-To-School Lunch Box Ideas
posted by Divya , September 05, 2017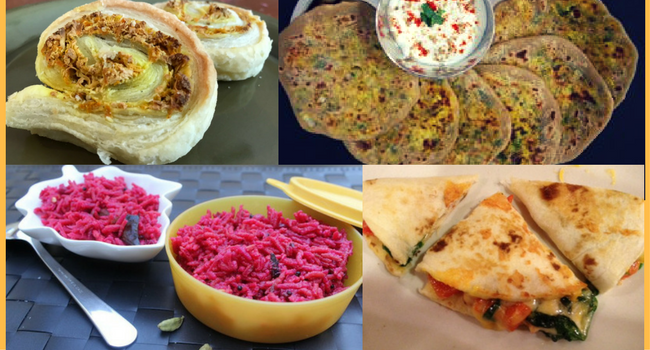 It is back to school time, and back to school means, early morning lunches! With a few days to go before first day of school, I found myself browsing for recipes - quick and easy, approved by the 6 yr-old, no mess, easy to pick and eat and of course healthy recipes too.

Most of you would agree that packing a kids' lunch is not the same as packing a grown up's lunch ! We have here a 2 Week list of Back to school Lunch box ideas just for you!
1. Parathas with a twist!

While the regular aloo and gobi parathas are always there, surprise your kid with Protein packed paratha recipes like our carrot paratha. You can get a bit more innovative and try out these Avocado-cheese paratha recipe from Sin-a-Mon-Tales!

2. Theplas

Traditional theplas are generally a safe bet with most kids, more so if they have an Indian palate. Theplas are easy to handle especially for younger kids, you can roll them and cut them in bite size pieces for easy pick and eat! Try this easy recipe!
3. Have Fun with Idli & Dosa

While Idlis are healthy, easy, no mess food, they may get boring for kids. Here are a few ways to make Idlis fun and yummy- Stuffed or veggie idlis ensure that you can sneak in some veggies. Mini idlis are another great lunch box life-saver. This Tricolor Mini Idli recipe can be a nice, colorful lunch box surprise for your child. Or this super fun Carrot Coin Dosa recipe, both do great in the lunch box.
4. Fried Rice

If your kids do well with rice, your lunch box options really open up. Try out this yummy Mushroom Rice- or the very colorful Beetroot rice especially for older kids and if they are good with picking up with the spoon. Using a spoon helps develop motor skills & hand-eye co-ordination. So give these recipes a shot- you may be surprised!
5. Paneer Pinwheels

Pinwheels are one of my go to recipes. No mess, easy to pick and eat and you can alternate with veggies or Paneer! You will find the Puff pastry sheets in the Frozen section. Follow thawing and baking instructions on the package.
For the inside stuff - Mix grated carrots and grated/ chopped paneer with salt and garam masala. I prefer to cook this mixture a bit, especially if I chop the veggies instead of grating them. Roll the mixture into the puff pastry sheets and cut into pinwheels. Toss in some grated cheese if you have a cheese lover at home! Bake at 350 F for 20 mins or as required.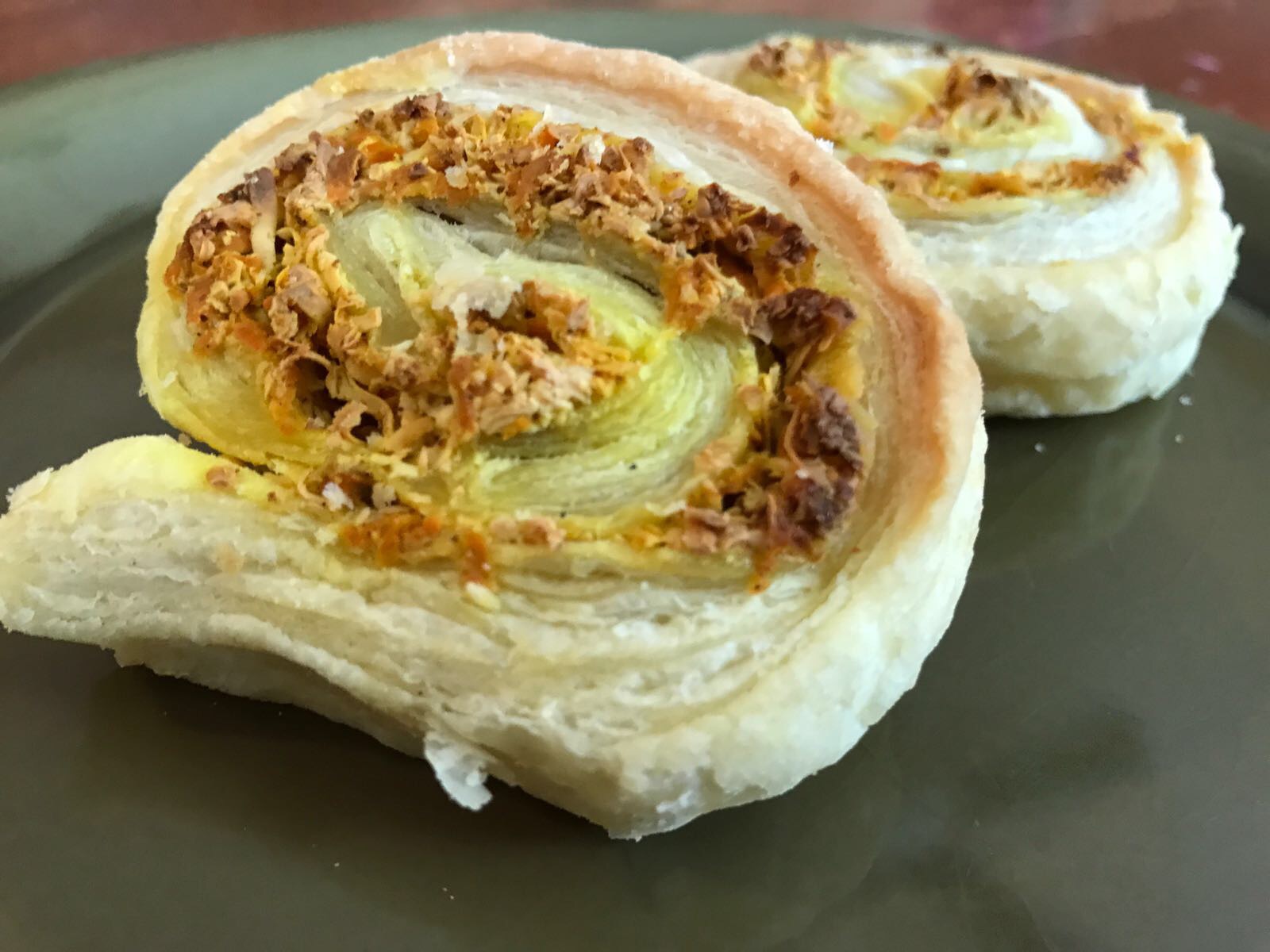 6. Zucchini Bites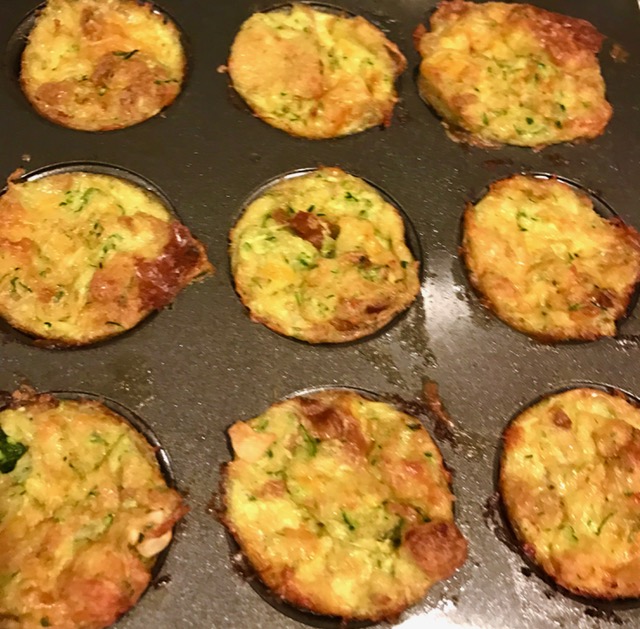 A protein filled bite-sized way to include zucchini in the lunch box! The zucchini can be replaced with any veggie of your choice. Works for adults as well as kids.A big hit in our household! Get the Recipe here.
7.Quesadilla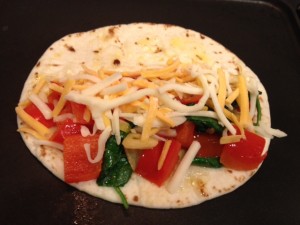 One of the easiest things for school lunch, I discovered, was a nice quesadilla with a crunchy outer exterior and gooey cheese inside.Toss in some veggies into the cheese mix and it takes a healthy turn. Do try this for your child's lunch!
8. Pancakes

Mix in 1/2 cup flour, 1 tsp baking powder, 1 tsp salt, 1 tsp sugar, one egg and Milk as needed to make the Pancake batter. You can replace 1/2 cup flour with whole wheat flour. Or 1/4 flour and 1/4 quinoa flour. Then add chocolate chips... yummmm!! Heat a lightly oiled griddle or frying pan over medium high heat. Pour or scoop the batter onto the griddle, using approximately 1/4 cup for each pancake. And for some very creative pancake ideas you must check this out !
9. Noodle Soup

Thukpa is a spicy noodle soup prepared with veggies or meat. We love soups and I wanted to try kids friendly version with less spice and also wanted to prepare it as a complete meal perfect for lunch box. I always love to play with soups. Even in this soup, instead of plain water, I used 1 cup of dal water. Soup is a perfect dish to sneak in veggies and some protein. So this is what I tried to make it kids friendly- Thupka Recipe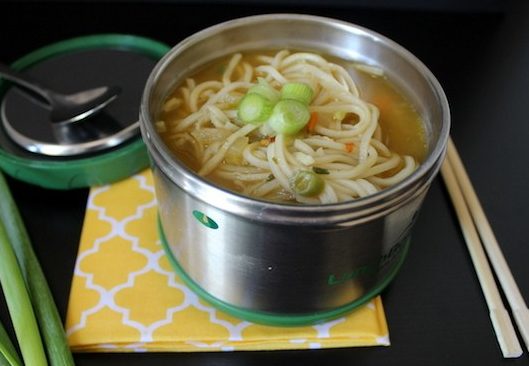 10. Variations with the Good ol' Sandwich

Most of us get into panic mode some times if not every night, as to what to pack for the kid's lunch the next morning? Sandwiches are a real life saver! Here is an amazing recipe for an avocado sandwich for your Kid's Lunchbox. We also love this Potato-carrot version from Vidhya's Vegetarian kitchen! Check out Vidhya's detailed recipe which is perfect for those super-lazy or super-busy days!

Well, it surely helps being innovative & creative when it comes to packing children's lunch box. So, do share your ideas as well with us and all IMC readers!
Good luck and happy lunch-packing Moms and Dads :)