14 Amazing Children's Books on the Ramayana
posted by Toka Box Editorial Team , April 08, 2019
It is Ram Navami next week and here are some superb books on the Ramayana will thrill you and the kids!
1.The Adventures of Rama by Milo Cleveland Beach
Recommended Age 9+ yrs

This book is a beautiful find and one that you should get for your child's bookshelf! It is a great example of the diversity of our culture and the stories that we love retelling from our mythologies.

To rid the world of the evil, ten-headed Ravana, the Hindu god Vishnu appears on earth as a heroic prince, Rama. The devotion of his brother Lakshman, his marriage to the beautiful Sita, and encounters with demons, giants, sages, and holy men form favourite episodes familiar to any Hindu child. Taken from the holy text, the Ramayana, these stories conclude with Rama's efforts to rescue the kidnapped Sita, aided by Hanuman, leader of an army of monkeys.
These incidents have been retold and lavishly illustrated using original paintings from a 16th-century Mughal manuscript. Originally published in 1980 by Freer Gallery of Art, this is a completely redesigned edition.
2.The Ramayana in Pictures written by Mala Dayal and illustrated by Jagdish Joshi
The Ramayana in Pictures tells the story of the great epic through detailed and striking illustrations. The brief supporting text, when read aloud to little children looking at the pictures, will vividly introduce them to this immortal tale. With stunning illustrations and just the right amount of text, our kids were engrossed in reading the book and would not put it down till they finished it!
Buy now!
3. Junior Kumbhakarna written by Arundhati Venkatesh and illustrated by Shreya Sen
Recommended Age 2-6 yrs


Written by Arundhati Venkatesh and illustrated by Shreya Sen, the book is about a boy Kukku who wants the story of Kumbhakarna again and again and again. This so resonated with my daughter, who makes me tell her the same stories again and again and again. Kukku's dad starts telling him the story of the character in Ramayana, Khumbhakarna, who eats and sleeps and only sleeps.

What we loved about the book were the simple words and the lovely storyline make the book a delightful read. The illustrations are fabulous and they add so much more character to the book. A retelling of a portion of Ramayana in a humorous and funny manner!
Pair it with the very popular Ramayana Stick puppets!
Buy it now!

Paired it with Individual stick puppet Kits are available at Toka Shop. Shop Now
4. Lights for the Blue Prince written by Soumya S Ayer and illustrated by Ito Corrado
Recommended Age 6-8 yrs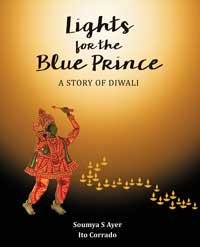 Lights for the Blue Prince recounts the entire Ramayana using the ancient art of Shadow Puppetry. It is a great book to have in your child's library.

Pair the book with our Ramayana Shadow puppet kit to make it a complete experience!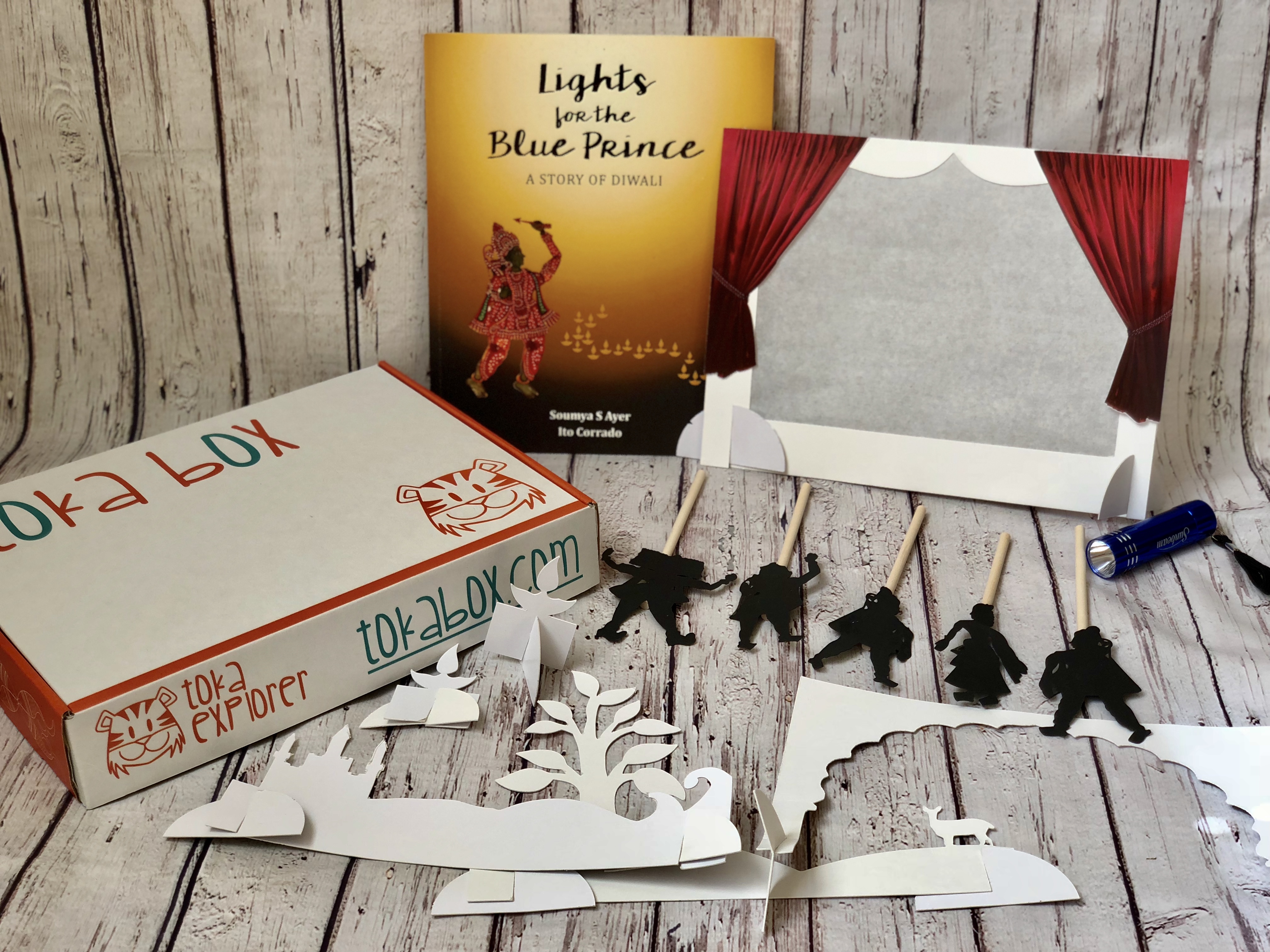 Individual Ramayana Shadow Puppet Kits are available at Toka Shop. Shop Now
5. Rama and the Demon King, written by Jessica Souhami
Recommended age 5 -7 yrs


This book is a slightly modified version of the Ramayana, it's good for a toned-down introduction to the epic giving kids a view into the broad outlines of the story and its morals. The illustrations are bright and inspired by shadow puppetry as well.
Buy it now!
6. Hanuman's Ramayan written by Devdutt Pattanaik and illustrated by Nancy Raj
Recommended age 6 +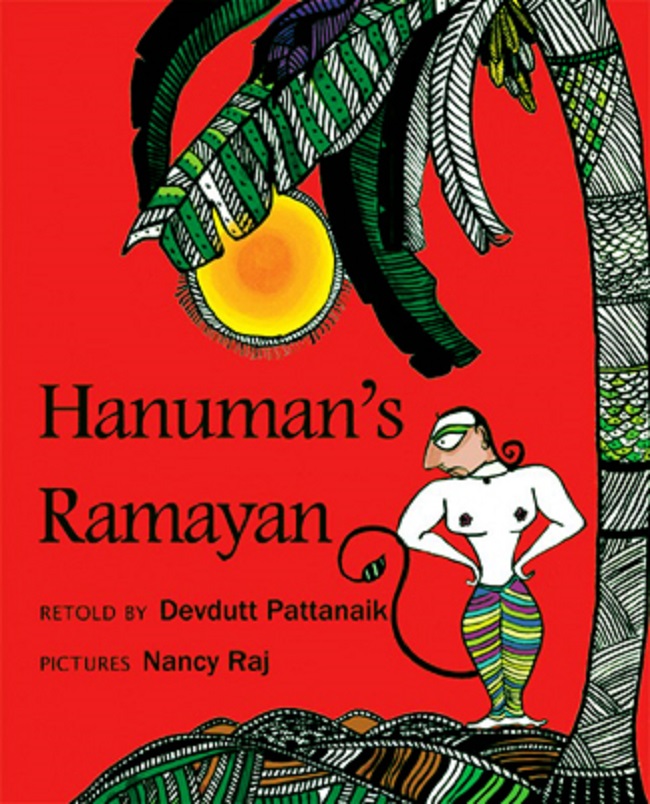 Retold by Devdutt Pattanaik and superbly illustrated by Nancy Raj, the book is a part of 'Our Myths' series by Tulika books. The story is about how Valmiki who completes the grand epic 'Ramayan' and realizes that he has competition when Sage Narad tells him about a better Ramayan already existing, written by Hanuman.

Valmiki is devastated but goes in search of Hanuman to read his version. The book tells us that there is more than one version to the great epic and each version has its one fascinating and interesting storyline. What happens when Valmiki meets Hanuman?
7. The Girl Who Chose written by Devdutt Pattanaik
Recommended age 9+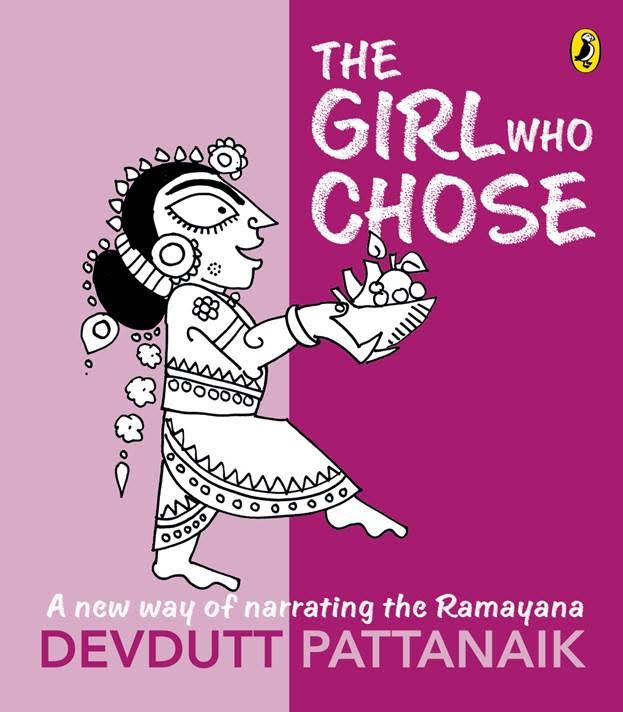 The tale of Ramayana is one of the epics among the Hindu religion and over the years we have heard and read different narratives of this grand history. I wouldn't use the word mythology, because then it would mean it's a product of man's imagination or misconception.

Coming to Devdutt Pattanaik's work, I feel this book is the simplest way to re-tell this huge tale that appeals to kids and adults alike. The book is surprisingly lightweight, I have seen various mammoth cardboard bound versions of this book, even the kids' version - which spans 3 volumes. But the author covers the essence nevertheless.

We have read the story mostly from Lord Ram's point of view about the trials and turbulences he faced being the most perfect gentleman in the history of Hindu religion (sometimes I would disagree, He shouldn't have abandoned Lady Sita). This book is refreshingly from Sita's point of view and about the choices she made in her life in the yester-world of 'male rule' (not 'dominance' I would say, ladies from all sections of society were treated with much respect I believe..)



'You are bound by rules, but not I.




I am free to choose.'




- Sita

Well, who would have thought what choices Sita really had to make in this mammoth tale, but yeah she did! That is what the author put forth beautifully in uncomplicated words with interesting anecdotes and wonderful illustrations. It's a very nice holiday read for kids before they venture to the larger versions of the story as they age. And for adults, a pleasant surprise in a light package! Trust me, we never get tired of our epics, they have so much to teach us and give us new insights every time we read them. Enjoy reading!
reviewed by Mathangi
8. Rama Fights Tataka written by Aparna Nambiar and illustrated by VS Madhu
Recommended Age 5+ years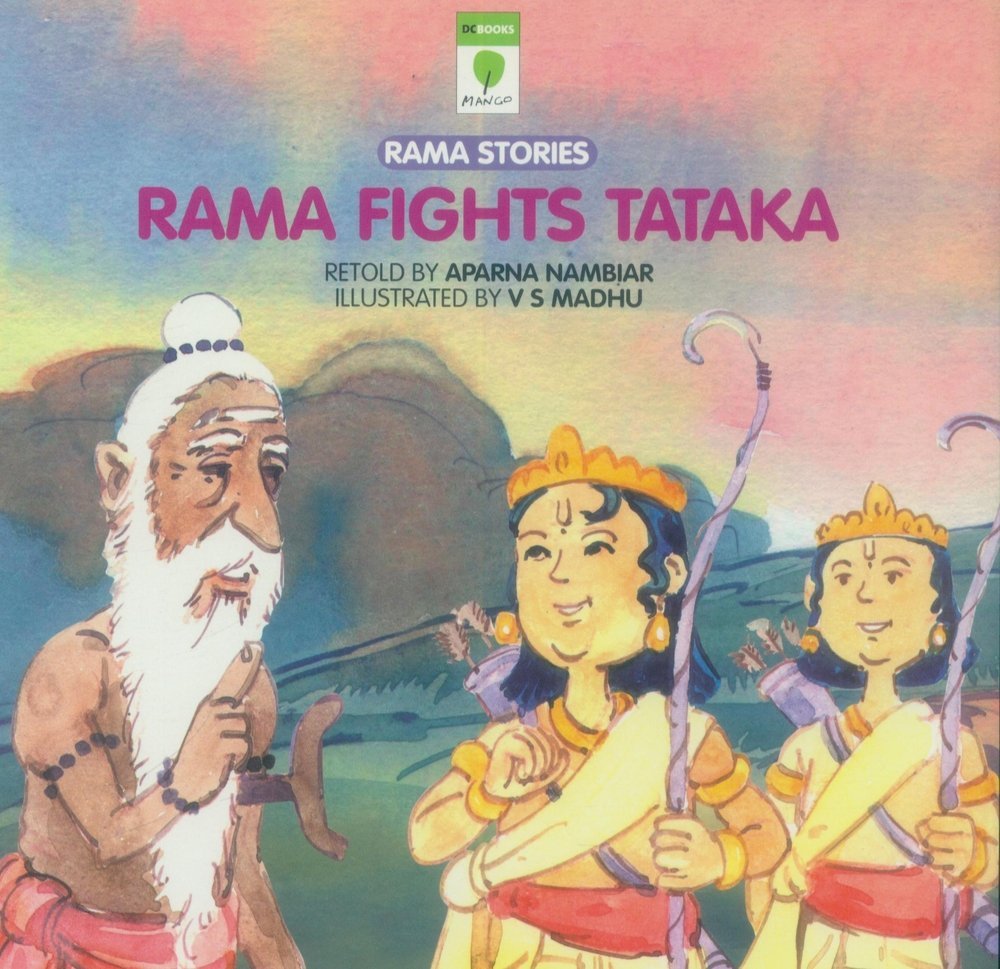 Here's a question – can you recall how many times have you listened to/ read/ watched the story of Ramayan? And has there been a single time when the story failed to fascinate you, or you could not find one new thing about the story and its characters?
Such is the charm of mythology – it's so deeply connected to us through our festivals and references, and through the stories that were an inevitable part of growing up around grandparents. With most of us now living in the nuclear family set-up, we do rely on books to tell our kids all the stories behind our festivals and Gods. Mango books series of 'Rama Stories' does full justice to this purpose.
'Rama Fights Tataka' is the story of Rama and his brothers growing up and the blessings Rama gets because of the sincerity with which he accomplishes his tasks. Maharishi Vishwamitra is disturbed in his yagnas by the demon Tataka, and he goes to King Dashrath to seek his help in getting rid of the menace. Rama is sent to protect the Maharishi's yagna, and he performs his duties well by killing off the rakshasi, thereby earning praises and blessings from Vishwamitra and the other sages in the ashram.
The format of the entire Ramayan being split into small stories for easier consumption for young kids works really well – as they are not overwhelmed with either the details or the length of the story. The usage of words is also just right for a budding reader. The illustrations add to the presentability of the book – Rama and Lakshman are shown to be very cute, chubby princes, and they make a very pretty picture.
Start collecting the series today, we say!
reviewed by Richa, @richaeasylib
9. The Story of Jatayu, Mango Books written by Aparna Nambiar, illustrated by VS Madhu
Recommended Age 5-9 yrs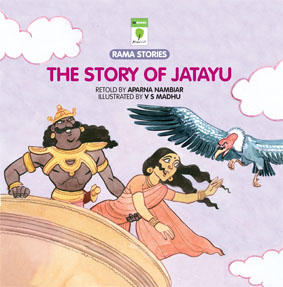 'The Story of Jatayu' tells us about the brave vulture Jatayu, who fights Ravana when he is taking Seeta to Lanka. The fearless old vulture, who is an ardent devotee of Lord Rama, does not care about his age or his life and fights with all the courage. However, Ravana soon gets the better of him and flies away to Lanka. Jatayu, having failed to protect Seeta, still keeps his wits about him till Rama reaches the spot where he is lying wounded, and tells him the direction where Ravana has taken Seeta. Rama is very grateful to the old vulture, and blesses him so that he attains moksha.


Buy it now!
10. The Upside Down King, written by Sudha Murthy, illustrated by Priyankar Gupta
Recommended Age 9+ years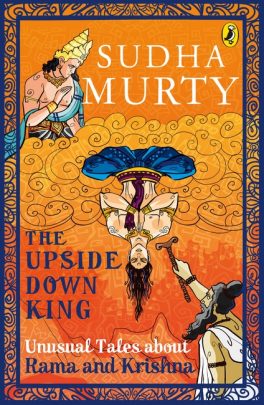 In The Upside Down King, master storyteller Sudha Murty regales us with the untold and lesser-known tales of Rama and Krishna. These are tales we never knew existed, lost to time and tide. They stun and grip us with their power and offer us narrative surprises and enchantments in true epic style. And mysteriously, they tie back to the mainstream stories that we so love.
For example, the first story begins as just another story, about a king named Khatwanga, a powerful ruler who belonged to the solar dynasty and who could not have children because of a curse from the gods. On advice from Sage Vasishta, King Dilip then performs a penance and his curse is broken. The story has many twists and turns, but it ends with quite a delightful revelation -- that it is the origin story of King Dasharatha, Lord Rama's father and the King of Ayodhya! The second story is about Ratnakara, a highway robber who leads a life of many sins but who one day meets Narada and his destiny changes forever. Who does Ratnakara become? You will be stunned to know who it is! Hint: He is connected with the Ramayana!
Don't miss it!


Buy it now!

11. The Story of Hanuman by written by Mala Dala and illustrated by Taposhi Ghoshal
Recommended Age 2-6 yrs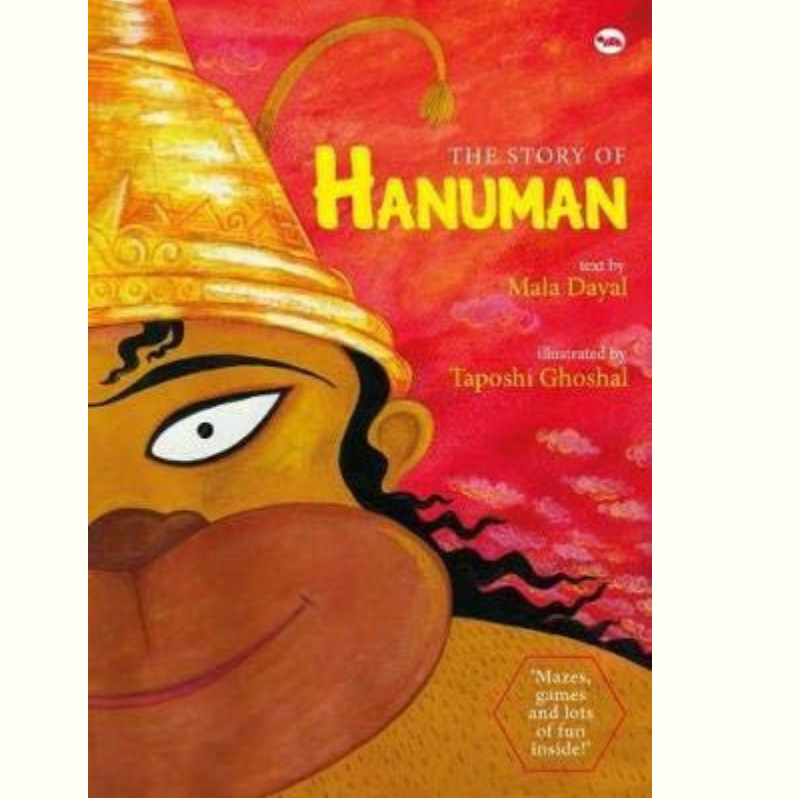 Everyone's favorite Monkey God is back, in a delightful avatar! Beautiful illustrations, exciting games and activities and a fun and engaging narration add to the appeal of this retelling of Hanuman's life. Join Hanuman on a rollicking journey from his childhood days when he tried to eat the Sun, to his helping Ram and Lakshman rescue Sita from Ravana's clutches.
Buy it now!

12. Hanuman's Adventures in the Nether World written by Madhavi S Mahadevan, Illustrated by Srivi and published by Katha
Recommended Age 5-9 yrs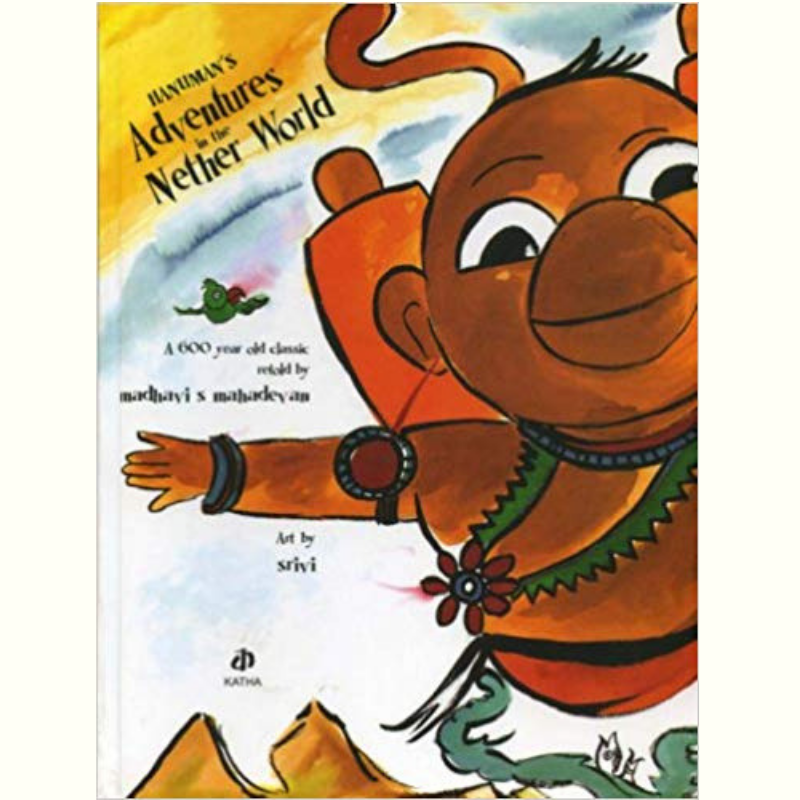 'Hanuman's Adventures in the Nether World' is the story of Hanuman's battle and victory over Mayil Ravana, or Peacock Ravana, who was Ravana's brother residing the Nether World or Paatal. The story is very captivating, and the illustrations complement the text beautifully. The large size of the font helps the kids read the book in an easy manner, and the chapters are short enough to hold their attention.
Buy it now!

13. Tales of Hannu the Monkey God written by Anchal Sandeep Bansal
Recommended Age 4-7 years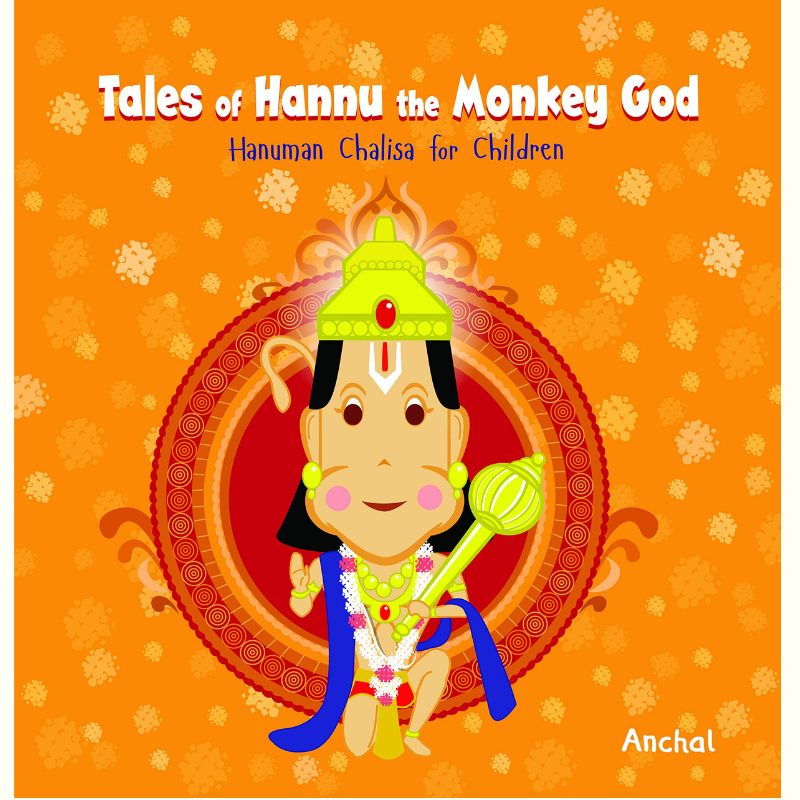 Hannu the Monkey God was a mischievous child. But he also did a lot of amazing things using his many super powers. Discover how reading the Hanuman Chalisa keeps away bad thoughts and helps you find the strength to deal with any difficulties in life. Join Hannu in his adventures as he fights evil. Solve the puzzles and explore stories of his bravery and friendship with Lord Ram.
Buy it now!

14. Ten Heads for Tanuj by Priya Narayanan, Illustrated by Shamika Chaves
Recommended Age 6+ years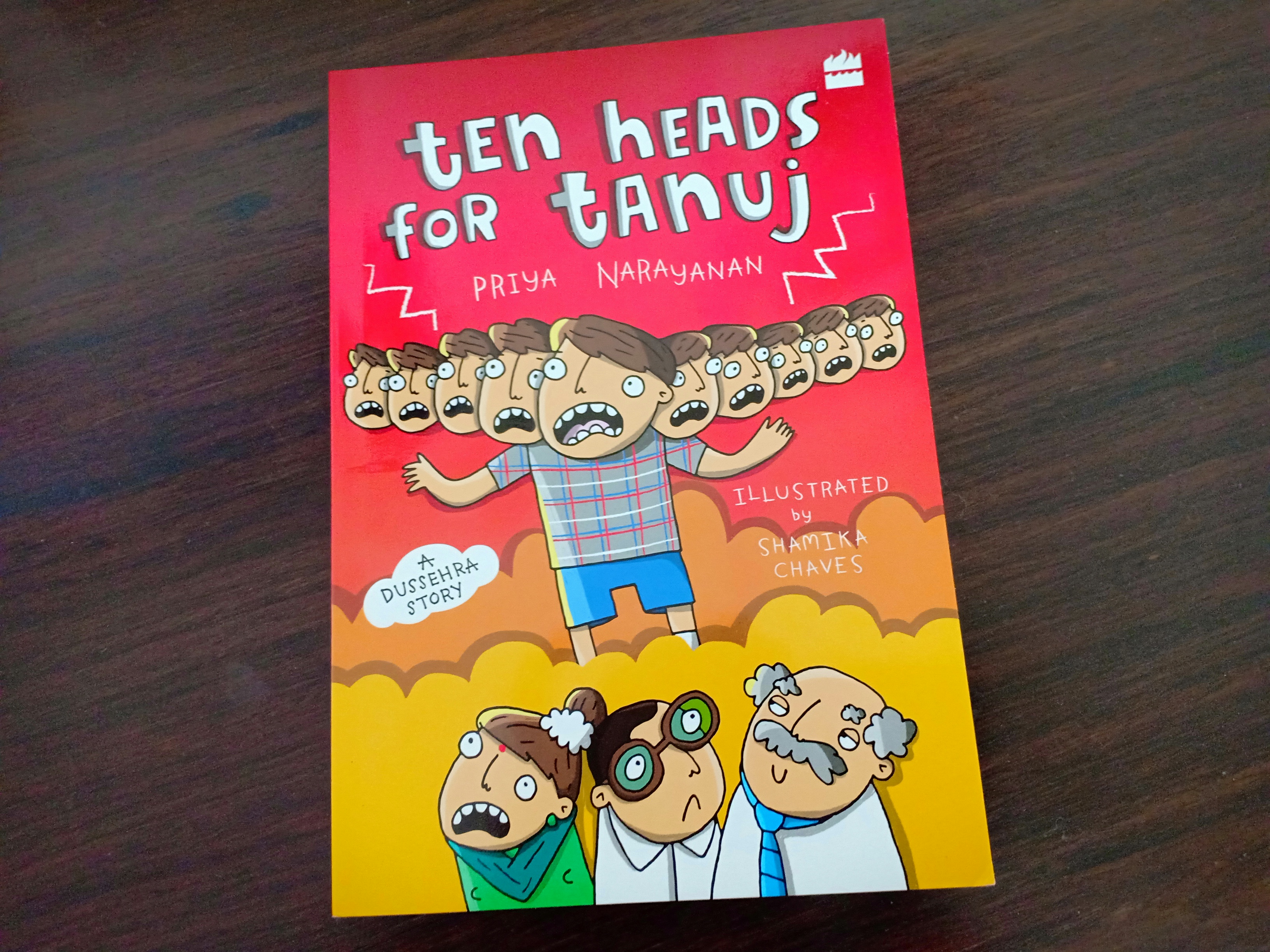 Ten Heads for Tanuj by Priya Narayanan is a hilarious, engrossing and completely entertaining story about Tanuj, who idolizes a particular Lanka King with ten heads. One day, Tanuj wakes up to find that he also has ten heads! Apart from being a fun ride through and through, the book gives a voice and a modern context to one of the most intriguing super villains of Indian Mythology. The book is a great way to look at Ravana and get into his - erm - heads!
Buy it now!